Hello peaches, how are you all doing? I've been sooo busy lately! Ridiculous! Turns out that your last semester of your last year of University is pretty full-on...who knew, right? Between coursework and my dissertation and applications for next year I'm almost too tired at the end of the day to do any crafting :( But I do still have a couple things to show you!
How cute is this little guy? ♡ I used the
Lil Baby Unicorn pattern here
, but I did the mane and tail a little differently, as well as the eyes (I am a stickler for yarn stuff, I really prefer my crochet things to be all yarn if I can help it!) and I just love it! Soo cute, so sleepy n content looking hehe :3
Lumpy Space Princess from Adventure Time
! I love her a lot. This was fun but also pretty tricky; I happened to have access to fabric paint so thought it would be fun to do the face and arms and body in paint and then embroider the rest, but staying inside the lines is surprisingly hard with fabric paint! And also did you realise stars are hard to embroider?! They really are!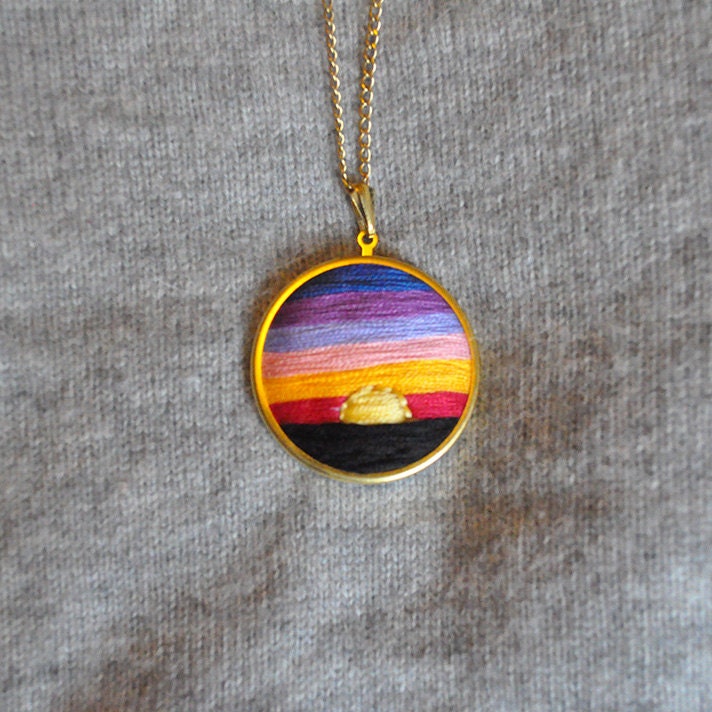 I got some of these really cool pendant frames for embroidered stuff and the first thing I made was
a little sunset
:)
I think that's pretty much it for now! I just gotta buckle down and get through the next few months and then hopefully I'll have loads more stuff to show you all!